We are so pleased to announce team EQUEENE's first sponsored rider as the very talented, Kate Ellison!
Kate is a professional showjumper from Dorset with a very exciting string of horses for the upcoming season, we are so excited to be able to support her, follow her progress, and be able to share it with you!
EQUEENE founder, Kat, caught up with her to find out more!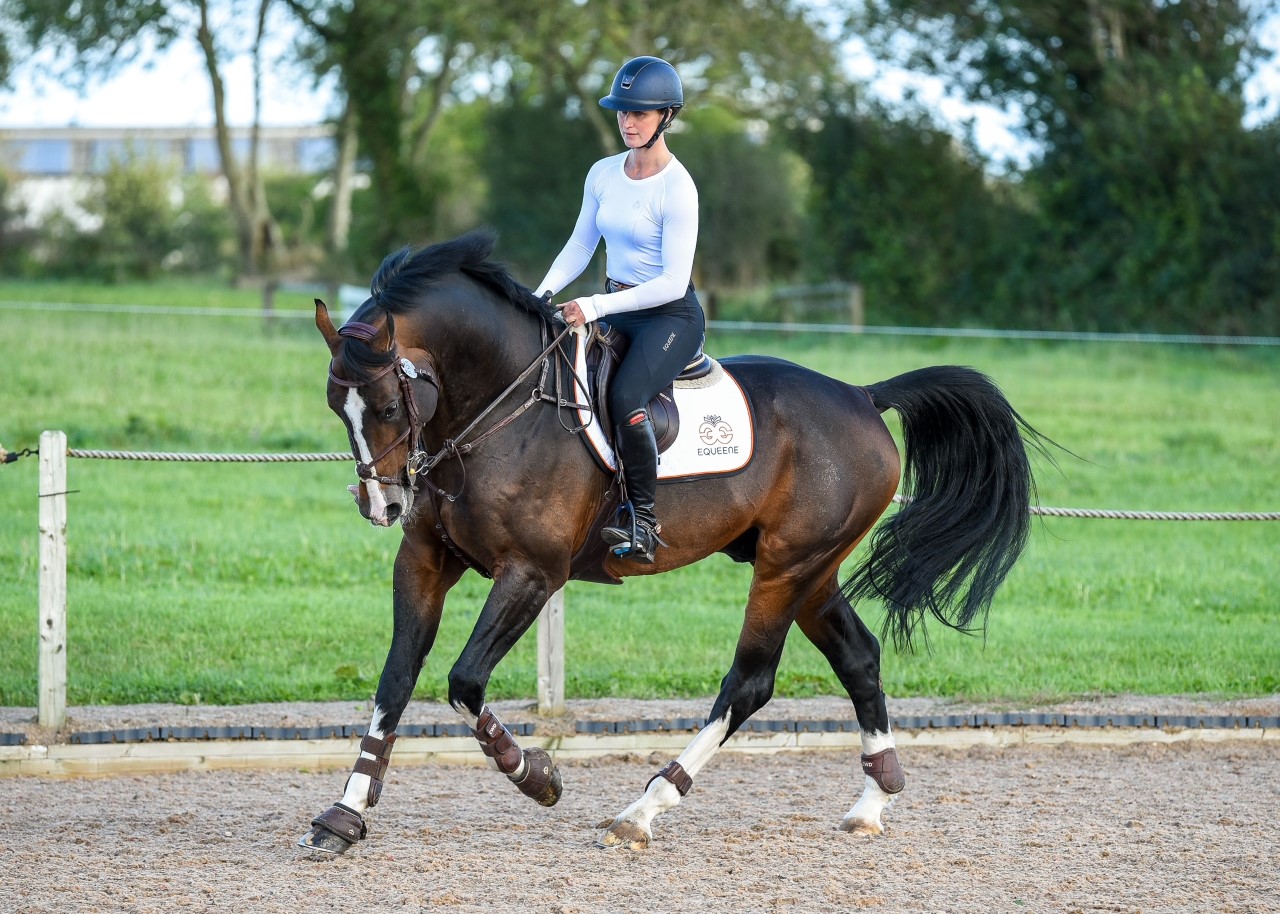 Kat- First of all, tell us a bit about you and the yard and what you guys do..
Kate - We are quite a large yard focusing on training for horses and riders. We take on horses of all levels whether it be for breaking, schooling or competing. Between Alex and Jabeena we also provide training for all levels of rider including giving lessons and boot camps on our fantastic schoolmasters. Alex is also able to travel to give lessons and clinics and help riders at competitions.
Kat - It definitely sounds like a team effort! With such a big, busy yard what is the one thing you would say is key to everything running smoothly?
Kate - It really is! I would say routine and organisation are so important, that and being backed up by a top support team. I usually ride 10-12 per day so I just couldn't get through them all without these things.
Kat - That is an awful lot of riding, you must be crazy fit! How on earth do you fit it all in? What is your daily routine for a non show day?
Kate - On a normal day, everything gets fed at 7.30am, it is then a team effort to get everything mucked out and morning yard done, we have anything between 20-35 horses in at a time so it is definitely all hands on deck! We usually go in for breakfast at 9am, then between 10am-2pm I start riding my horses, the horses that I don't ride will go out in the field, on the walker, or are worked by the rest of the team, then at 2pm we go in for lunch. At 3pm I am back out riding usually until 5pm, in the meantime the rest of the staff are doing evening yard and putting the horses to bed! We usually try to finish around 5pm-5.30pm.
Kat - It's a long day that! And that's just a normal day, not even a show day! You must find it exhausting sometimes! What would you say are the best and worst parts of working with horses?
Kate - The best part is that I get to do what I love for a living, but lie ins, days off, and holidays are a thing of the past!
Kat - You definitely have to be very committed to do what you do for a living! With all that riding, do you have a favourite exercise that you like to do with the horses, and why do you find it beneficial?
Kate - I love the exercise with 4 small jumps equally spaced on a circle. It promotes agility, balance and adjustability and is equally as useful for the young and older horses.
Kat - Talking of the horses, tell us about your top horses for 2022 and what you will be aiming them at?
Kate - My main horses for next year are:
- 14 year old stallion Chance, aiming for area trials and world ranking classes.
- 10 year old Mullentine R Royale, aiming for 1.40ms and talent seeker qualifiers.
- 6 year old Kukevannie, aiming for newcomers and foxhunter 2nd rounds.
- As well as lots of other horses coming up through the levels including some very exciting 3, 4 and 5 year olds.
Kat - Sounds like a very exciting year ahead! What about other people's horses? If there was one horse, past or present that you would love to have a go on, what would it be?!
Kate - It would have to be Steve Guerdat's Bianca, she was hot, sassy and an incredible athlete.
Kat - And what about riders? Who is your equestrian idol and why?!
Kate - Without doubt, Marcus Ehning because no matter what happens he is always still and balanced allowing his horses to jump underneath him.
Kat - Kate, I've seen you ride, and I think it's safe to say your seat is enviably still too! What would you say is your personal career highlight to date?
Kate - It would definitely have to be winning the Grade C Championships at HOYS in 2017.
Kat - Such an amazing achievement! What would you say was the best piece of advice you have ever recieved?
Kate - Showjumping is just dressage with jumps in the way - flatwork is key.
Kat - And what advice would you give to someone starting out in their career?
Kate - I would say have confidence in your own ability and be prepared to push yourself to achieve. There will always be plenty of people ready to doubt you so it's up to you to prove to them what you are capable of. This is especially important if, like me, you are not born into horses. There are lots of people out there willing to give you opportunities if you are confident and driven to improve and succeed.
Kat - Love that! Well, we are definitely very excited to work with you! How are you finding your EQUEENE kit so far and do you have any favourite items?
Kate - Everything that I have worn so far has been really smart and can be worn all day on the yard! You can tell that they have been made from a rider's perspective and designed to meet the requirements of equestrian life! My favourite item has to be the Isla performance breeches, they are incredibly comfortable whilst being stylish and hard wearing.
Kat – That's so good to hear! We look forward to seeing you fly the EQUEENE flag and follow your success in the future!