Our top picks to keep you cosy out riding this season!
Winter is drawing in much quicker then most of us would like! Although the beautiful orange leaves make for some very cute photos, the fact of the matter is that we are having to start digging out those layers and wrapping up warmer!
The horses winter rugs have been neatly folded for the past 3 months, washed, reproofed, repaired and ready to go, yet for some reason, when the temperature dips, its a mad panic to dig out those winter clothes, hats, scarves and gloves! For some reason, you never seem to have enough layers, as if there is some sort of clothes eating monster at the back of the wardrobe?!
Needless to say, if you are in the same panic, we have got you covered with some gorgous winter pieces this year!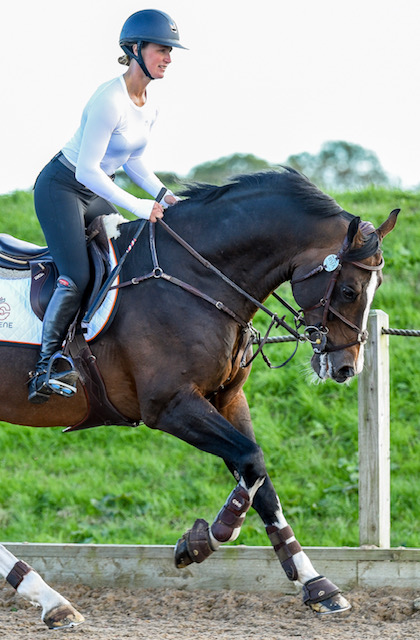 TOP TIP 101 - Layer up!
Now we've all had the science drilled into us enough by now - wearing multiple thin layers will keep you warmer than a single thicker layer because the warm air from your body is trapped between the layers actins as an insulator, we don't need to go on! But it really does make such a huge difference!
The Molly seamless training top acts as a perfect insulator layer fitting closely to your body like a second skin to aid insulation. It is the perfect length to tuck into your breeches, and pop your thumbs throught the thumb holes to prevent any cold breezes.
It may seem like a contradiction, but the breathable material really helps to keep you warm in the winter months, any sweat produced whilst riding is quickly and efficiently wicked away before it has time to cool and cause a chill.
Slip on this top as an extra layer underneath your show kit or your day to day riding outfit for that added extra warmth that is much needed this time of year!
SHOP MOLLY
Something New
As the winter weather has started closing in, we would like to introduce you to our two new arrivals- Christie a super cozy, fleece lined sweatshirt, and Sena, a technical riding jacket, both of which, we are sure will become staples in your equestrian winter wardrobe!
Christie Crew Neck Sweatshirt
Super cosy, fleece lined, casual crew neck sweatshirt. Ideal for adding extra warmth for a day at the yard, or equally ideal to throw on after a work out to prevent you from getting a chill.
SHOP CHRISTIE
Sena Technical Training Jacket
Cottony soft, high performance, sports jacket which is not only supportive, but sweat-wicking and breathable, providing you with unlimited comfort for a day of riding.
SHOP SENA
No matter what your plans are for the winter season, we hope that you wrap up warm and enjoy those frosty mornings, maybe the odd flurry of snow (not too much!) a piping hot cuppa in hand and your EQUEENE Equestrian layers making you look as stylish as your trusty steed in his pristine rug!